Pitch White Entertainment is all about creating good, clean entertainment that all ages can enjoy. Our mission is to be a voice for good, to provide quality entertainment that you will never have to turn off or walk out of because of inappropriate content. We believe it is both possible and the right thing to do to be clean and extremely entertaining.
Our Latest Feature Film – Funny Thing About Love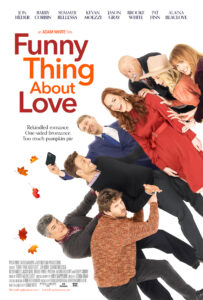 Check out our latest feature film "Funny Thing About Love".
Samantha Banks brings her boyfriend Bryce Jones Esquire home for Thanksgiving to meet the family. When they arrive at her parent's home she is shocked to find out her mother has invited her ex-boyfriend, Luke, who is in town doing a stand-up comedy show, to spend the holiday with them. The love triangle gets really strange as Luke admits he still has feelings for Samantha, and to her dismay she finds out that Bryce is Luke's biggest fan in the world.
Funny Thing About Love Trailer
Rent or Buy Funny Thing About Love Today